Sections in this Article:
Step 1: Confirm ColorDome Camera Connection
---
The USB video capture device is depicted below. This device converts an analog signal from the camera inside the ColorDome to a digital signal that is sent to the computer via USB connection. A grey coax cable from the ColorDome will connect to the yellow lead of this device. The USB will connect to the computer. You may purchase replacements through 3rd party vendors. Device is called Diamond VC500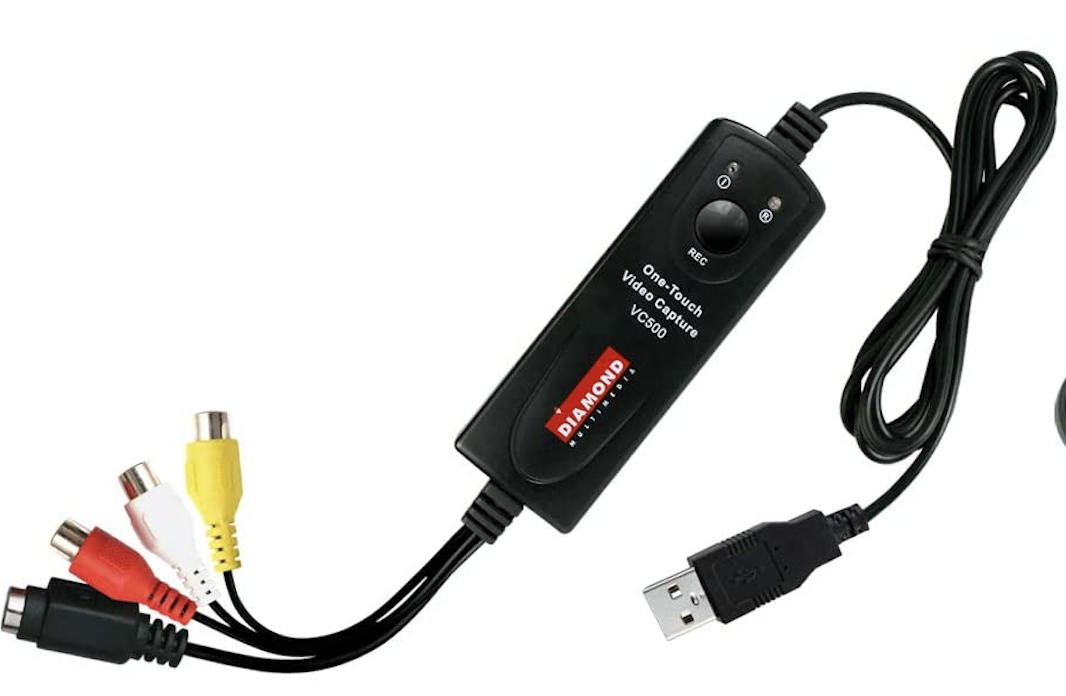 Tip: This USB video capture device has a different location for Desktop and Cart systems.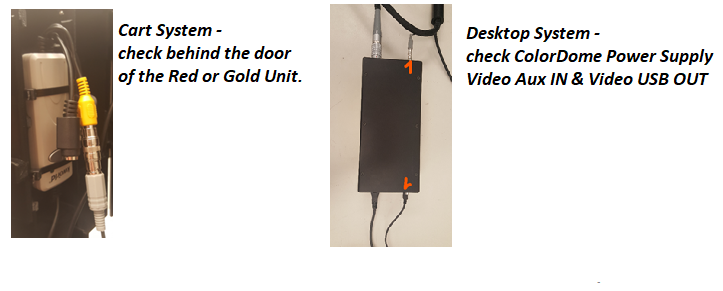 If device is plugged in but not found, try reconnecting the USB to the computer.
Note: If you have a profile cart system, you may have two USB video capture devices. One will be in the Colordome power supply, and the other will be mounted behind the stimulator control box. In this case, pick one and connect it to the computer. Do not plug both USB video devices into the computer. This will cause a conflict in Windows that will prevent operation of the video capture device.
Step 2: Confirm USB Video Capture driver is installed
---
1) Open Windows Device Manager. In Windows 10 the easiest way to do that is to use the search bar next to the windows button at the bottom left of screen.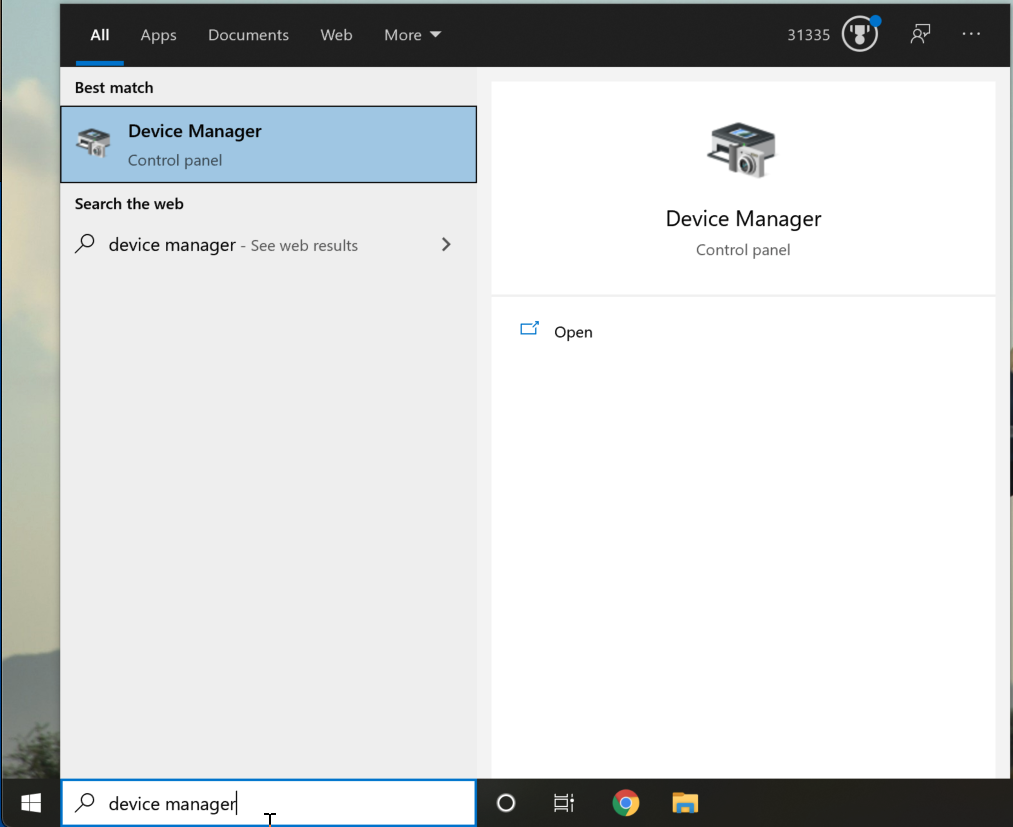 2) Check for OTG102or USB 2000under "Other Devices" or "Sound, Video and Game Controllers".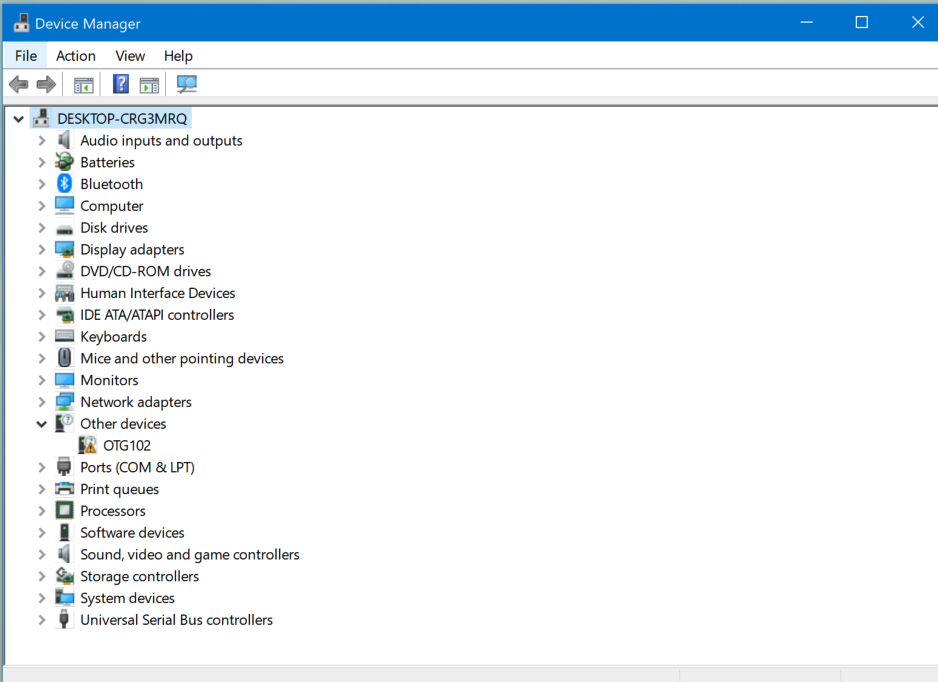 3) Right click on device name and select Update Driver Software -> Browse Computer.
4) Drivers for USB video converters are included in our software directory. Select C:\Multifocal. Click Next. Close next window after driver has installed.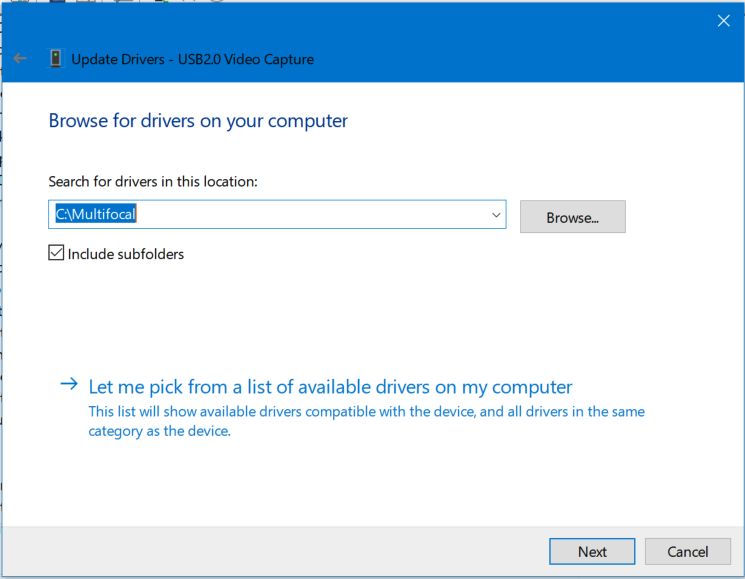 Installed device will appear as USB2.0 Video Capture in "Sound, Video, and Game controllers".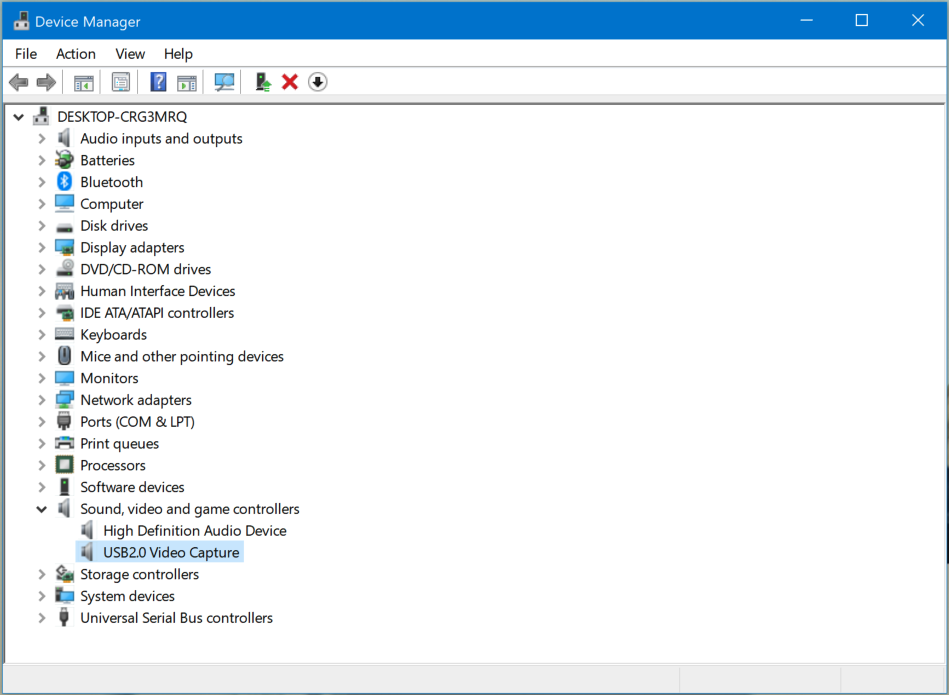 Step 3: Disable specific Windows security feature, Windows 10/11
It is possible that new Windows security features are preventing successful operation of the USB video capture device we are utilizing. Please consult with your local IT Department, especially if they have you set up using a Windows Active Directory Login.
This setting is called Memory Integrity. It is a setting that can be toggled off or on in Windows Security App. Open the windows security app, click Device Security, click Core Isolation Details. Disable Memory Integrity.
Restart the computer and attempt to reinstall the USB driver for the USB video capture device.
Step 4: Enable Camera Viewer if Not Visible
---
Camera viewer can be enabled in Setup tab. Click on the Camera button. It will be labeled with a green check mark when enabled.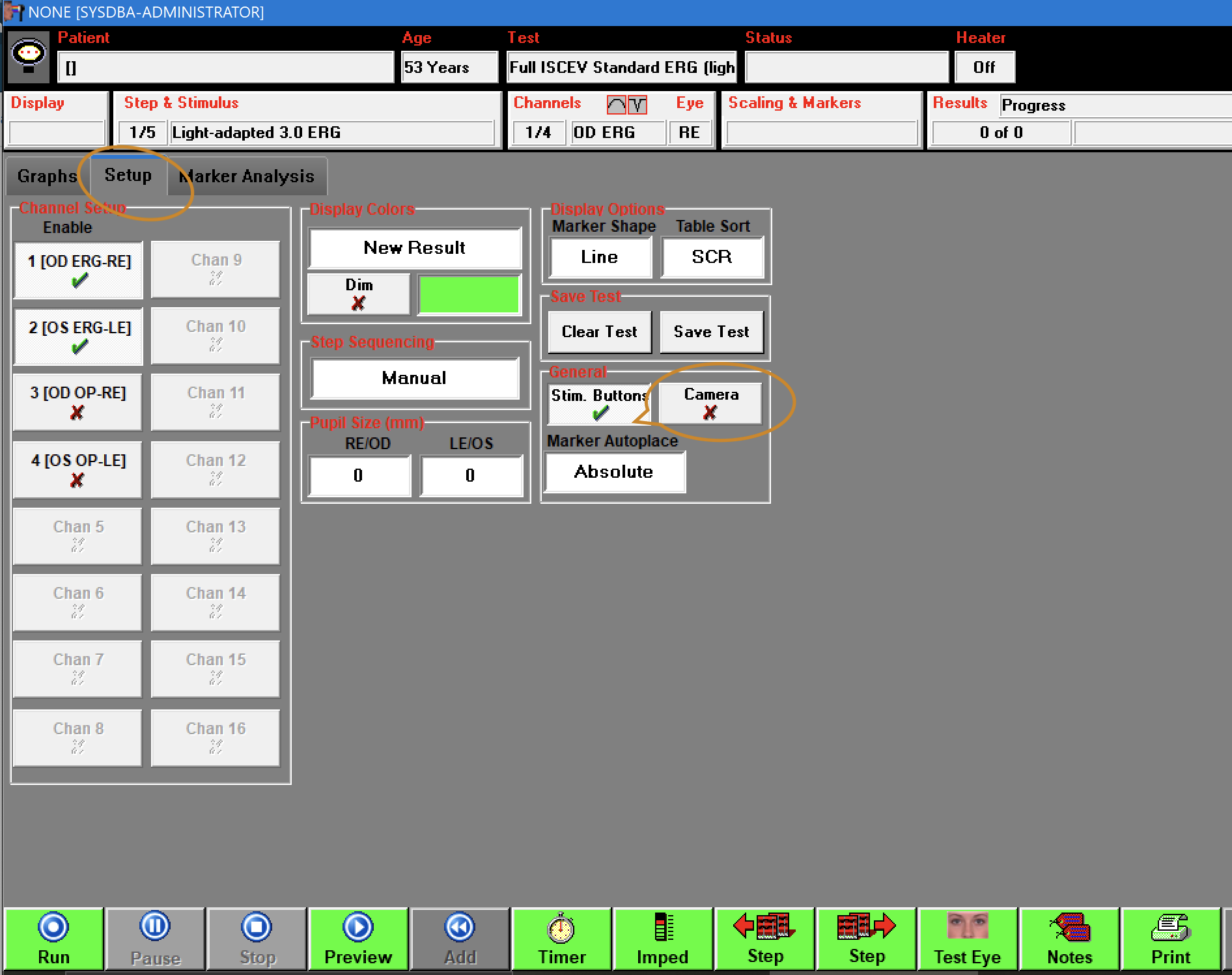 If camera viewer window does not appear, it may be off screen. Open file C:/Multifocal/CAMERAERG.INI. Right click file and open with Windows Notepad application. Change value for Top and Left to 100. Save file and close. Try opening camera view in Espion again.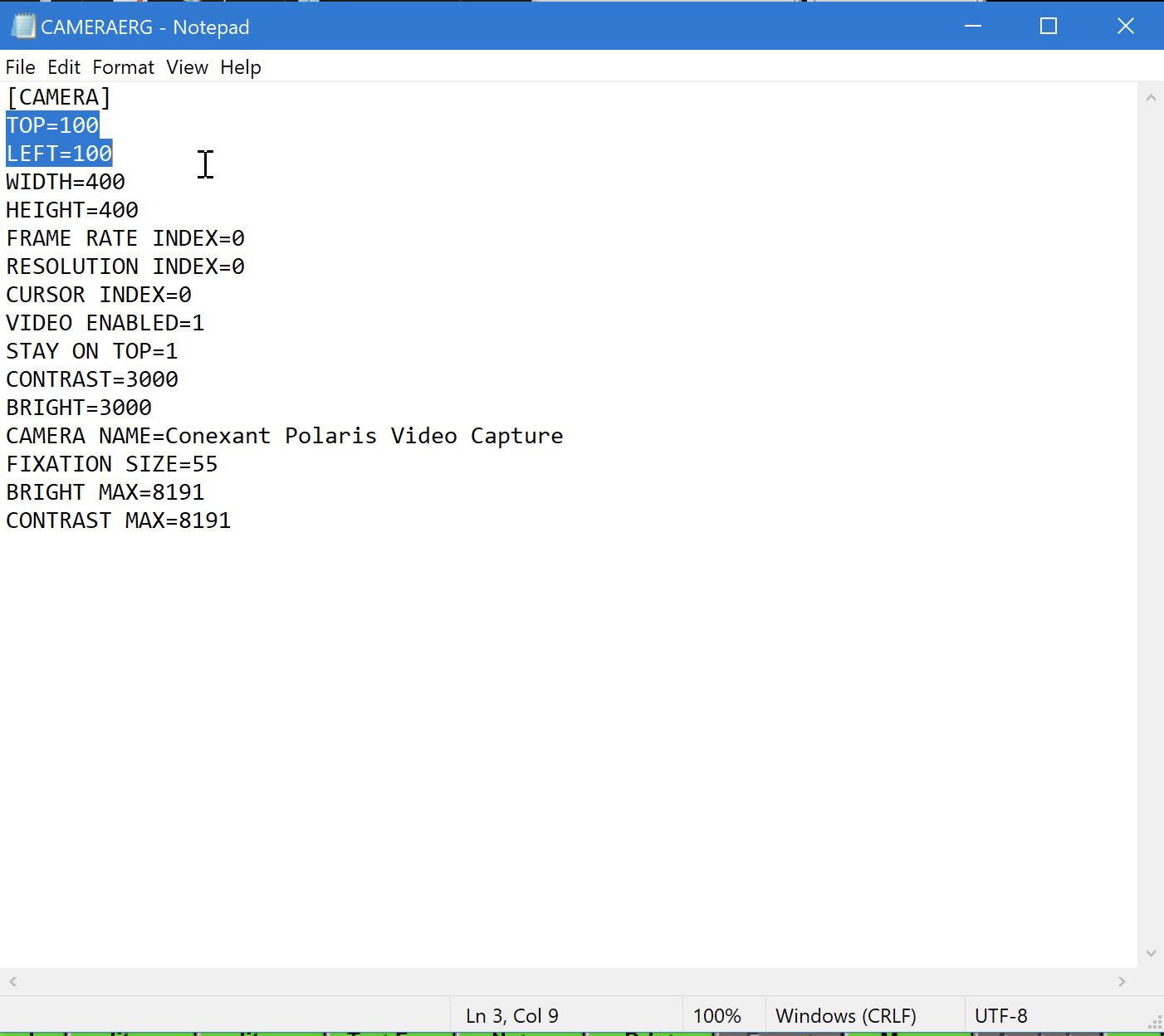 Step 5: Confirm Video Source selection
---
Click Camera -> Video Source in the camera viewer window.
Do you see options here? Our camera is usually named Conexant or USB 2000.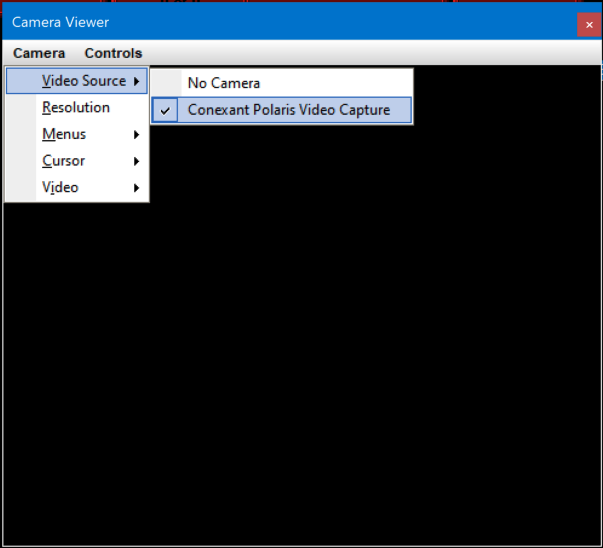 Note: If you do not see any options show up double check all your connections. Unplug and replug them. If there are still no options showing up your camera converter may be failing and might need to be replaced. Contact support at support@diagnosysllc.com.
Step 6: Configure Camera Settings
---
1) Set Video Format to NTSC_M.
Go to Camera -> Menus -> Capture.

2) Set Output Size to 320x240
Go to Camera -> Menus -> Capture_Pin

Tip: If the resolution defaults to a different value next time you use the software, try typing in OUTPUT SIZE = 320x240 as a line in file C:/Multifocal/CAMERAERG.INI. Open the file with Notepad.

3) Set Maximum Brightness and Contrast to 8191. Set sliders to at least half.
Controls Tab -> Resize Camera Window (Larger) if maximum values not visible.